My Indian Scout is a marvelous motorcycle, but for longer tours it might get slightly uncomfortable and is very limited, when it comes to luggage. Therefore I decided to my increase my vehicle fleet by a big enduro for longer tours. Requirements: suitable for longer tours, good for offroad riding, not a BMW. Well, there's not much left other than a Honda Africa Twin (2019 version with manual transmission, 12V power outlet and heated grips). The "Adventure Sports" model would have been a bit more suitable for touring (bigger tank, higher seat), but that wasn't available in black. ¯\_(ツ)_/¯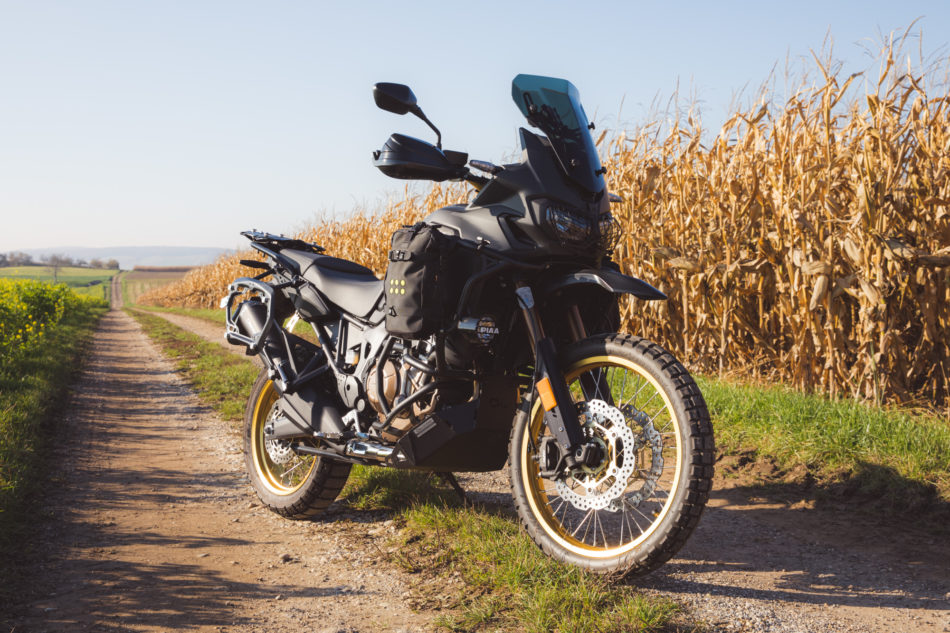 As a first step I removed all the decals (easy peasy with a hair dryer), to get the bike as "pure" as possible. Within the last year, some other modifications took place. So if you are looking for some inspiration for an adventure enduro motorcycle, you are absolutely right here.
Next step: Crash bars. There are lots of different brands and even more models. Most of them are trash, as they are either made of aluminium of too thin and might deform or touch the bike during a crash (or even when the motorcycle falls over when standing). After reading endless posts in Africa Twin forums I decided to go for the Outback Motortek crash bars, as they are super sturdy (as can be seen in this test video, where a bike is pushed over on purpose 😱)  and won't change the look of the bike's front in a negative way.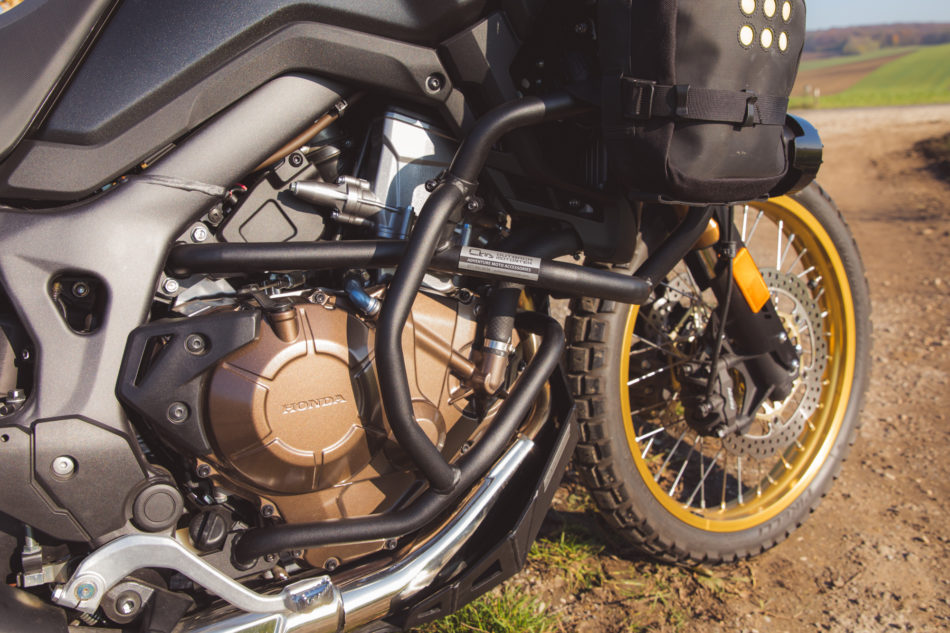 It's also really practical as one can mount various things on it: fog lights, GoPro mounts and bags.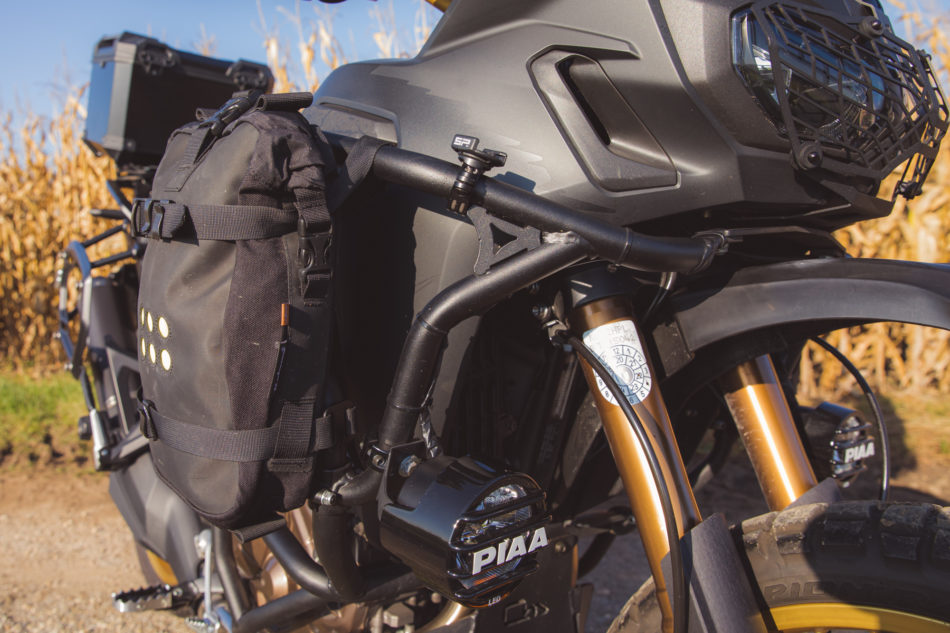 Part of the set is also a skid plate that protects the lower part of the motorcycle and might come in handy during any offroad trip.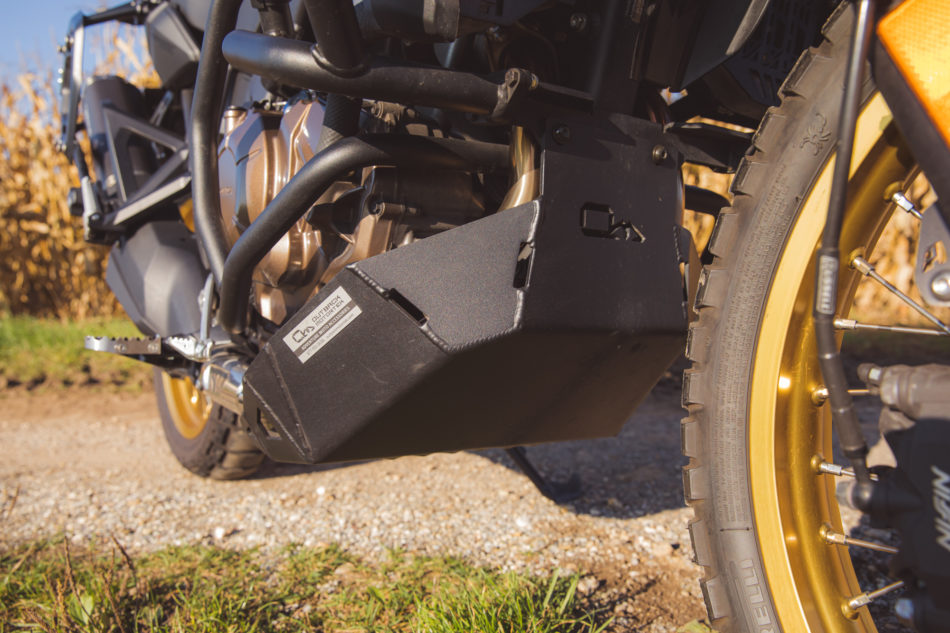 The Africa Twin does come with regular hand guards, but these are made out of plastic, so they most probably would not survive a crash or even a fall (let alone protect your hand). So: Get rid of them and mount Barkbusters Handguards (via SW-Motech), that have an aluminium bar and are known to be really robust. Nice side effect: Your hands are much better protected against cold airflow.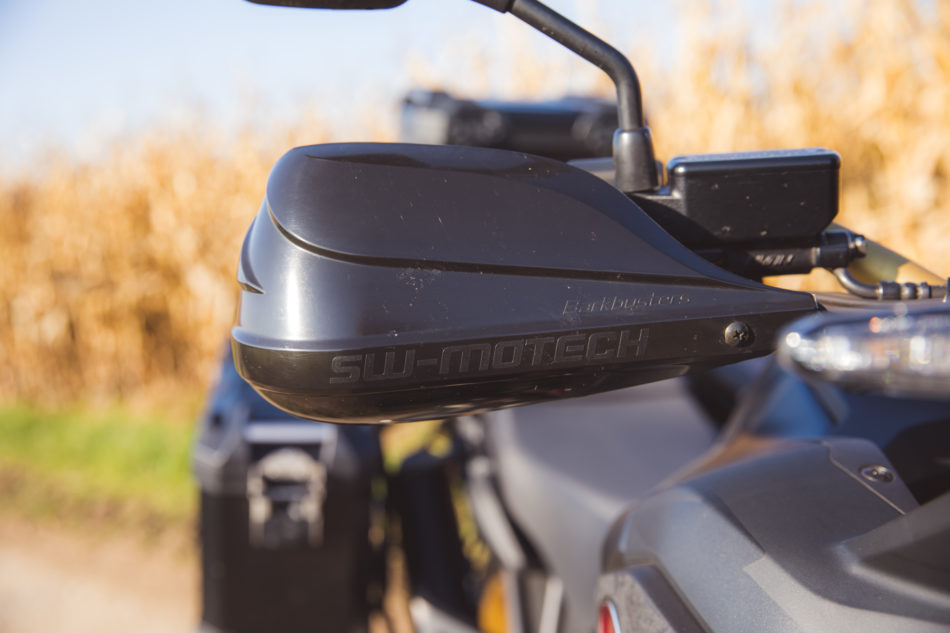 The original exhaust is everything but subtle, when it comes to size and color. So I removed it and mounted a much smaller one made by REMUS, that fits the bikes color much better and has a much nice sound (of course it is street-legal in the EU).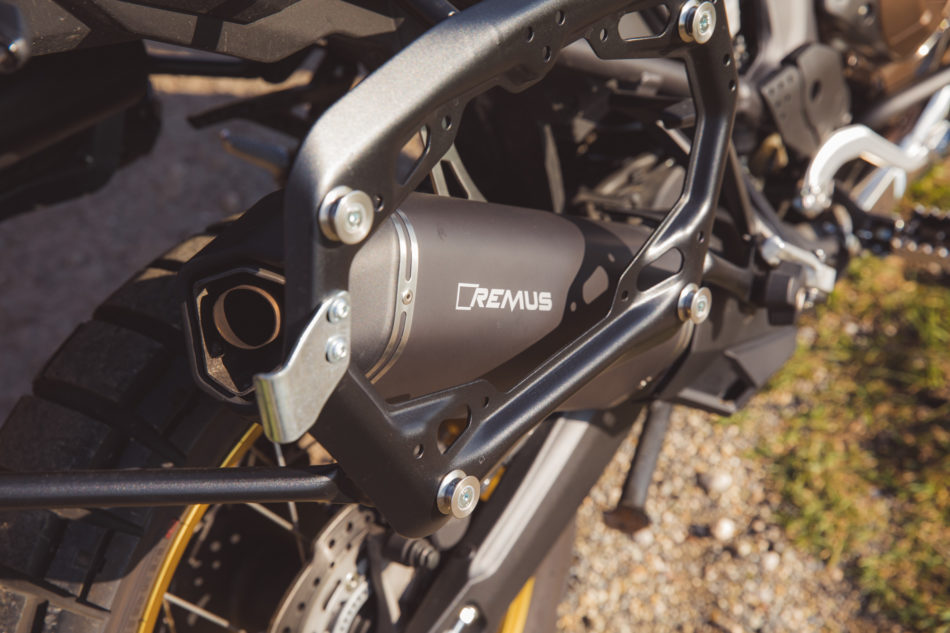 To bring enough stuff for longer tours I went for the TRAX hard case system by SW-Motech. There are lots of different opinions about whether hard cases or soft bags are the better choice. As I always bring my camera equipment, I chose the hard cases to have it better protected. All cases are dust- and water proof and lockable. The top case is big enough to put your helmet inside.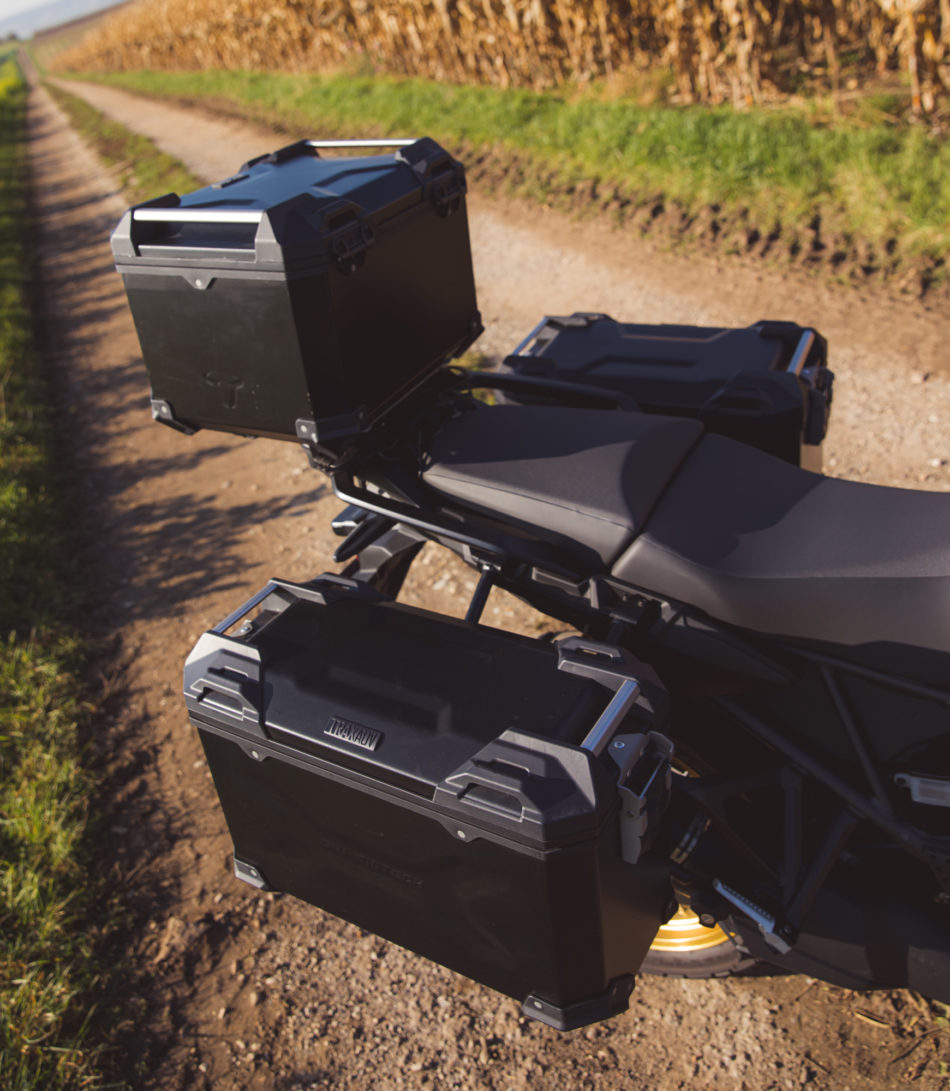 Part of this system is also a luggage rack, that is perfect for mounting various stuff (of a top case, of course).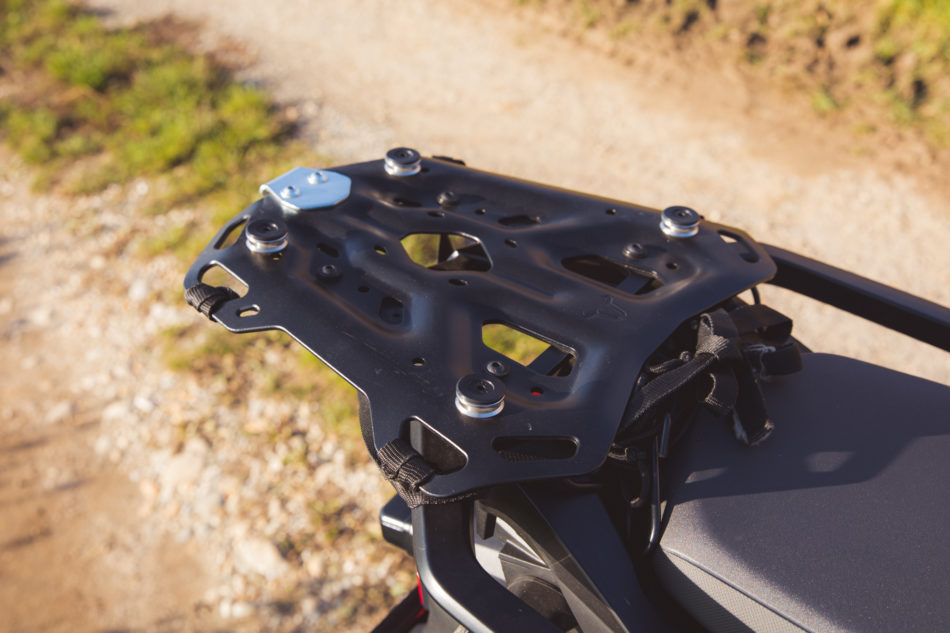 When writing about luggage I must not forget the Kriega bags, which I mounted on the crash bars. I use them to have my rain gear and my reflective vest always at hand and have the (in some circumstances) very wet rain gear separated from all the other luggage. They are super sturdy and even waterproof (which isn't really a thing when using for carrying rain gear). Kriega also produces bigger (saddle) bags, that would have been my choice if I was looking for soft bags instead of hard cases. Another advantage: If your bike falls over of you slip, you have more space to get your leg out from underneath the motorcycle.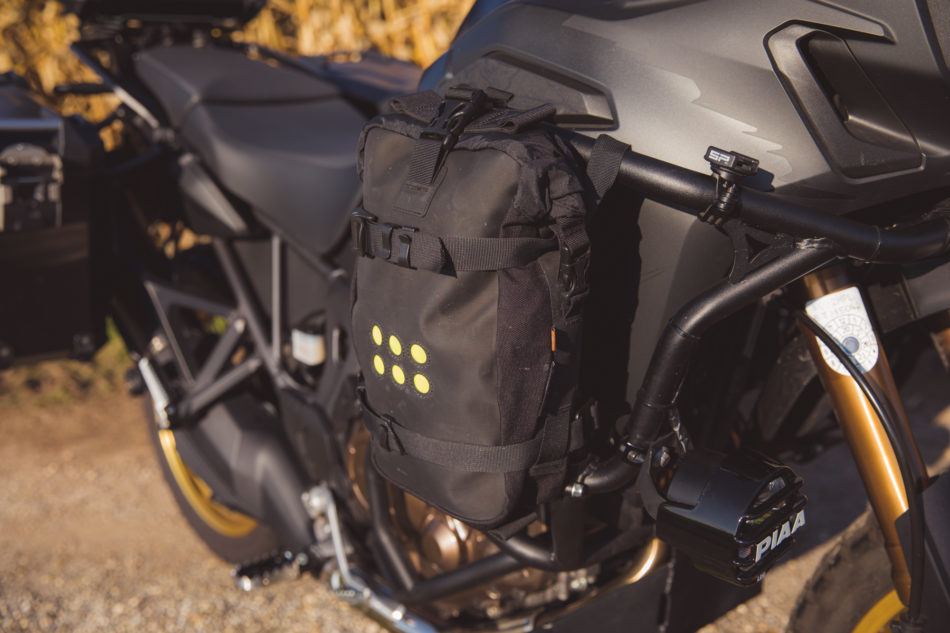 As someone who is a bit lazy and often forgets to take care of lubricating the chain (my Indian does have a belt fortunately), I decided to mount a chain oiler (CLS EVO), that does that for me. The reservoir and the pump is located underneath the seat, one filling lasts for about 10,000 kilometers. There's also space for smaller stuff like a smartphone charger and the first aid kit (not in the picture) underneath the seat.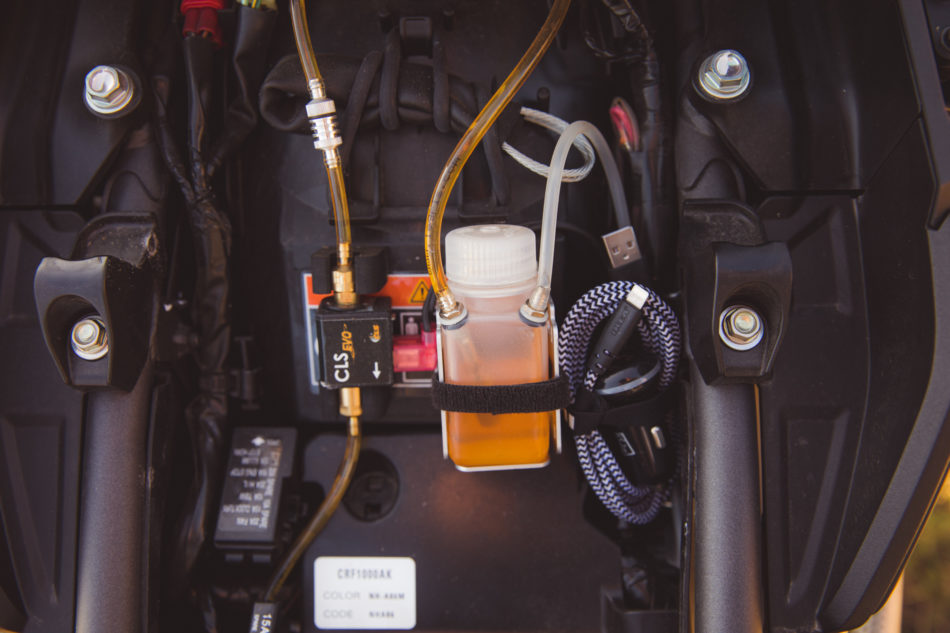 The oil line goes through the motorcycle to the back and over the swingarm to the chain, where it continously provides small amounts of oil. There is a control unit mounted at the handle bar that allows for adjusting the amount of oil (e.g. to increase it if you are riding in heavy rain). Right next to this control unit is the Tyre Boy, which measures the tyre pressure and the tyre temperature via two sensors that are mounted on the valve caps. This might be really useful when you go offroad riding and need to adjust the tyre pressure or in general to check if before every tour.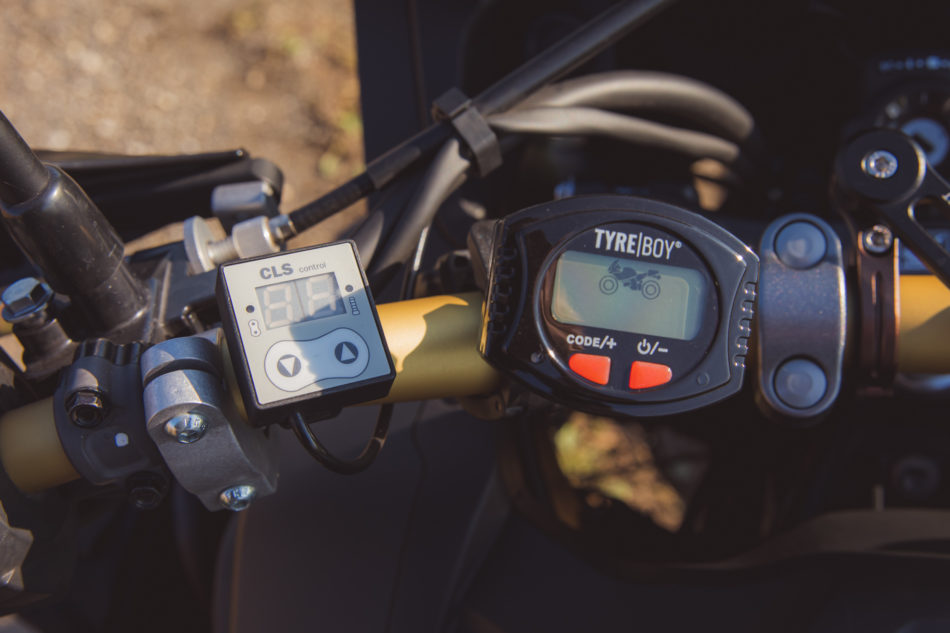 For mounting my smartphone I used the SP Connect mount and placed it on the center of the handle bar (I use the same system on the Indian as well as on my bicycle).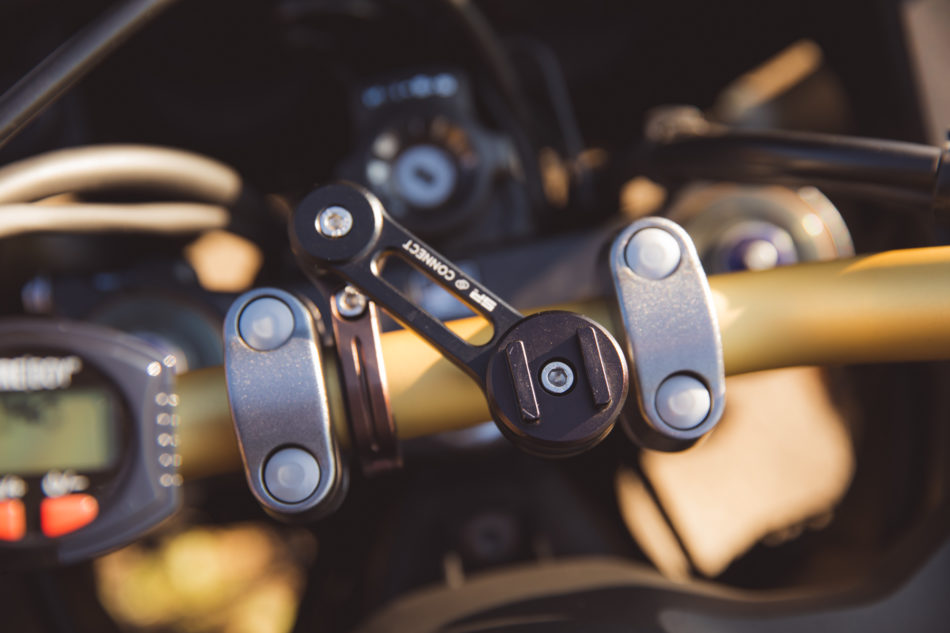 As I use my old iPhone as my sat nav (it's good enough for that) I mounted another SP Connect mount (in combination with a RAM mount) right behind the wind shield (where many others mount their Garmins). This is also usable for mounting a GoPro.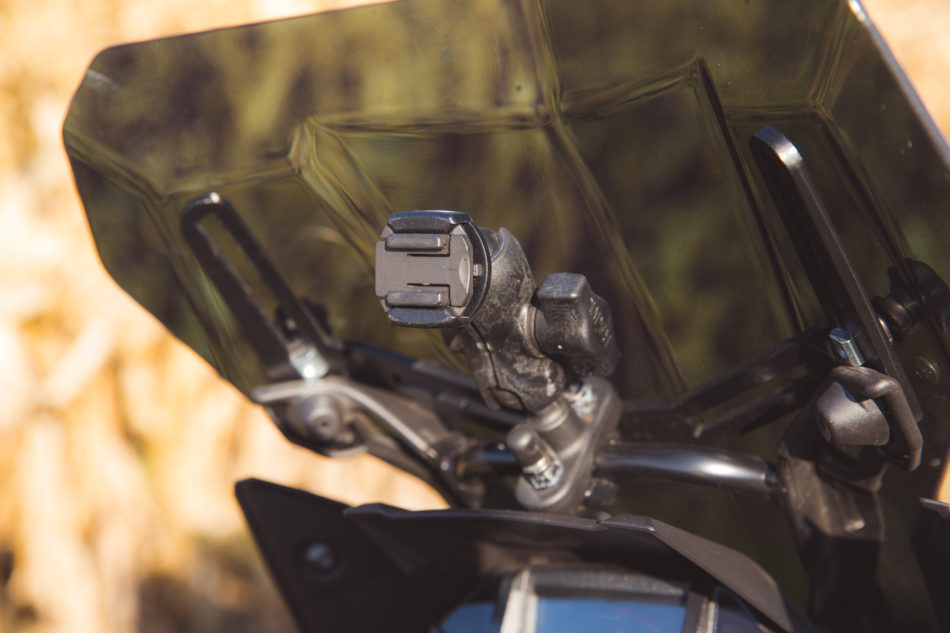 To intensify the bike's all-black-look and get better wind protection, I decided to change the original wind shield for the black Touratech wind shield. One of the few disadvantages of the 2019 Africa Twin is that it doesn't allow to adjust the wind shield. Therefore I mounted the Batzen Windscreen Adjuster. This allows to vary the height and get better wind protection during highway rides (unfortunately you can't adjust it while riding, but it's better than nothing).
For a more aggressive offroad look and to have the main headlights better protected I chose the Alt Rider headlight protection. In Austria you are not allowed to have this mounted on the street (only offroad), but it can be removed without any tools withing seconds.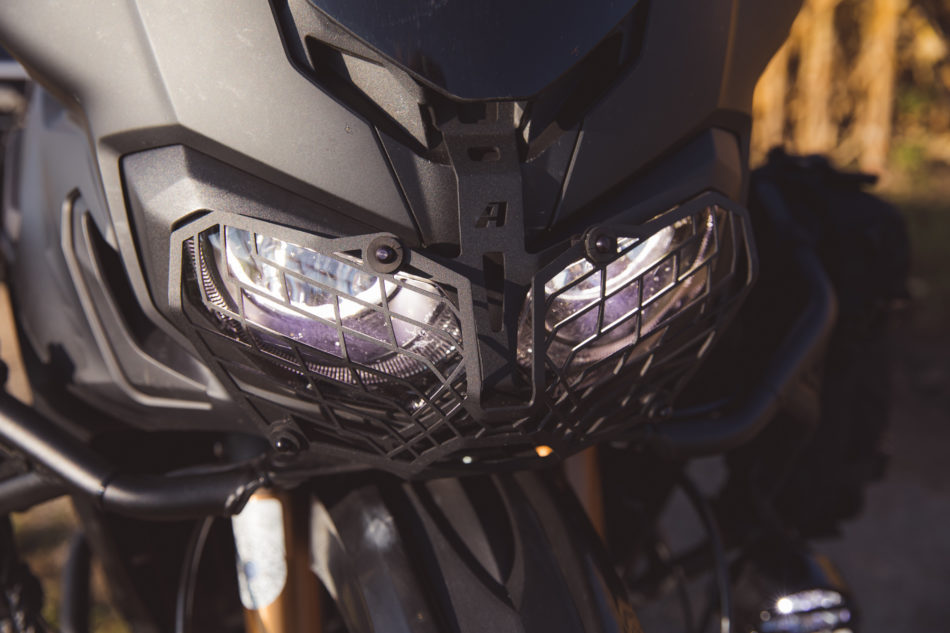 For better visibility I added the PIAA Fog Lights (the ECE approved version that is street-legal in the EU, of course).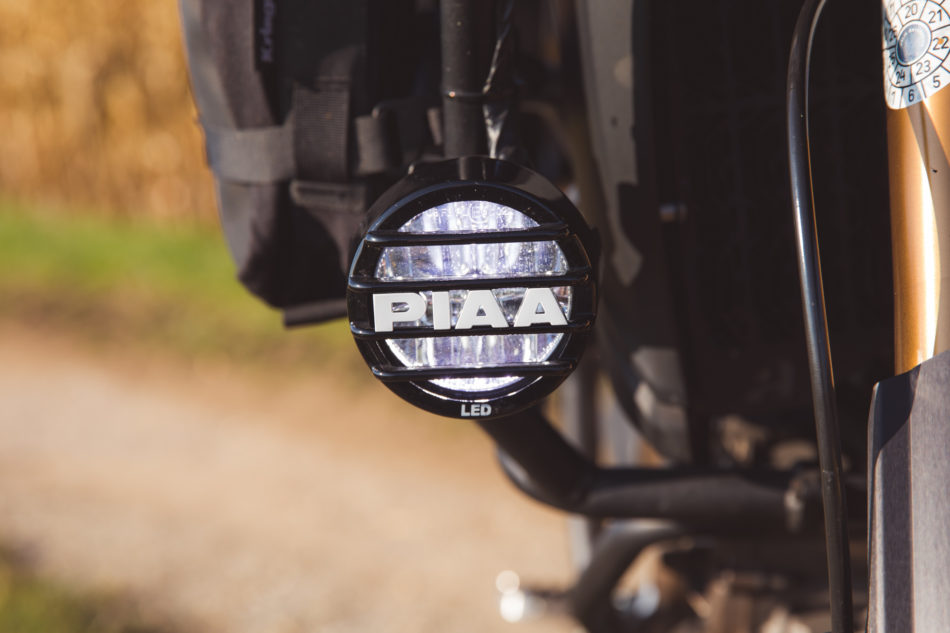 These lights are attached to the main cable harness via a aftermarket adapter, that is connected right behind the front fairing (there is a socket for the original Honda fog lights where this can be plugged in). There is no need to pull any cables through the bike to the battery, also no relais are necessary. Switching the fog lights on and off is done via a original Honda fog light switch. Practical side effect: The control light for fog lights in the dashboard works (in contrast to many other aftermarket lights).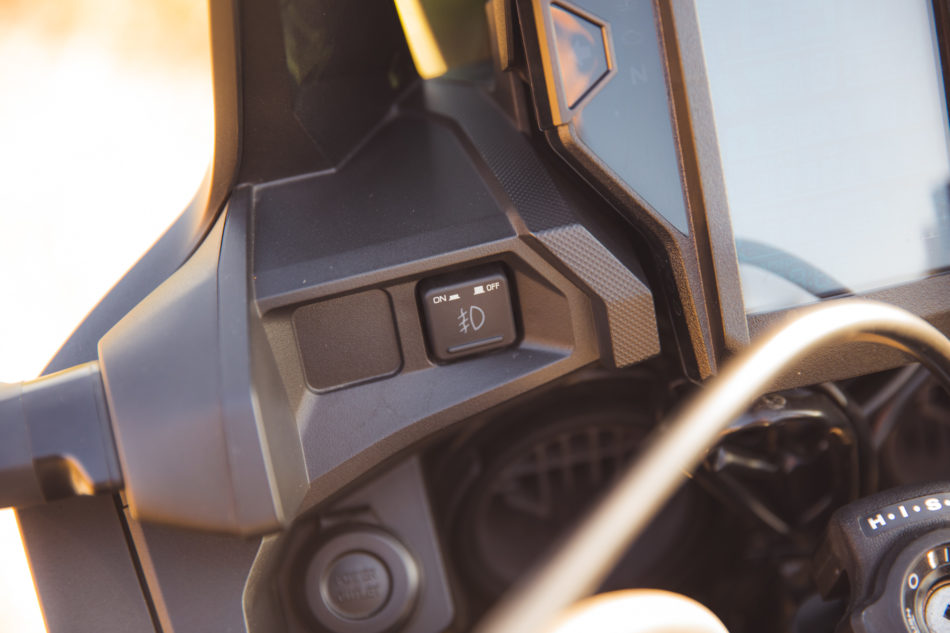 Right below that switch is a 12V power outlet to power a variety of things (smartphone charger, satnav, air compressor, etc.). This was (together with the heated grips) the only add-on I chose when ordering the bike. The 12V power outlet allows for a greater variety of devices, that's why I preferred it to a USB power outlet.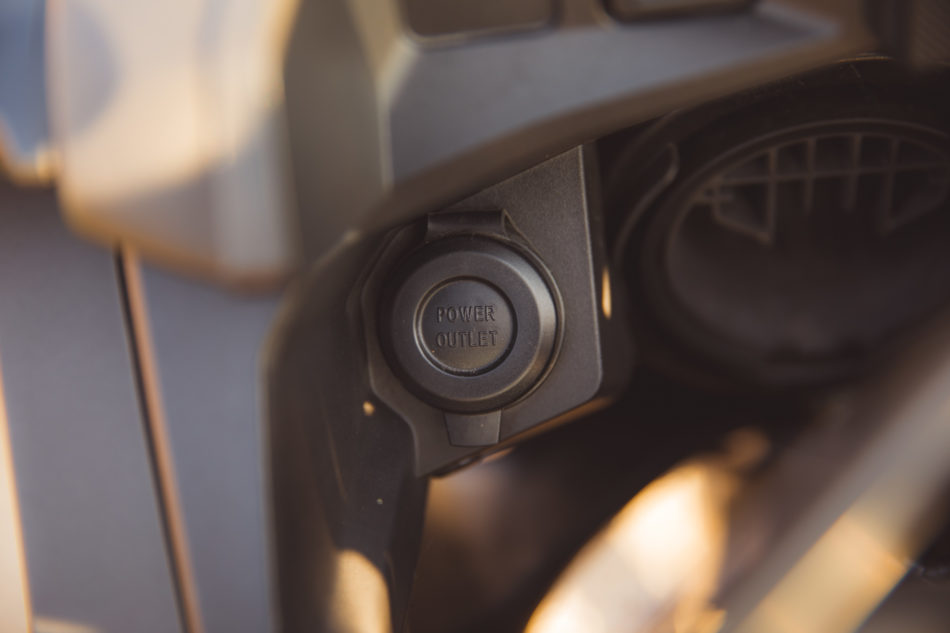 For a better protection of the radiator I changed the plastic radiator guards to the aluminium ones made by Alt Rider.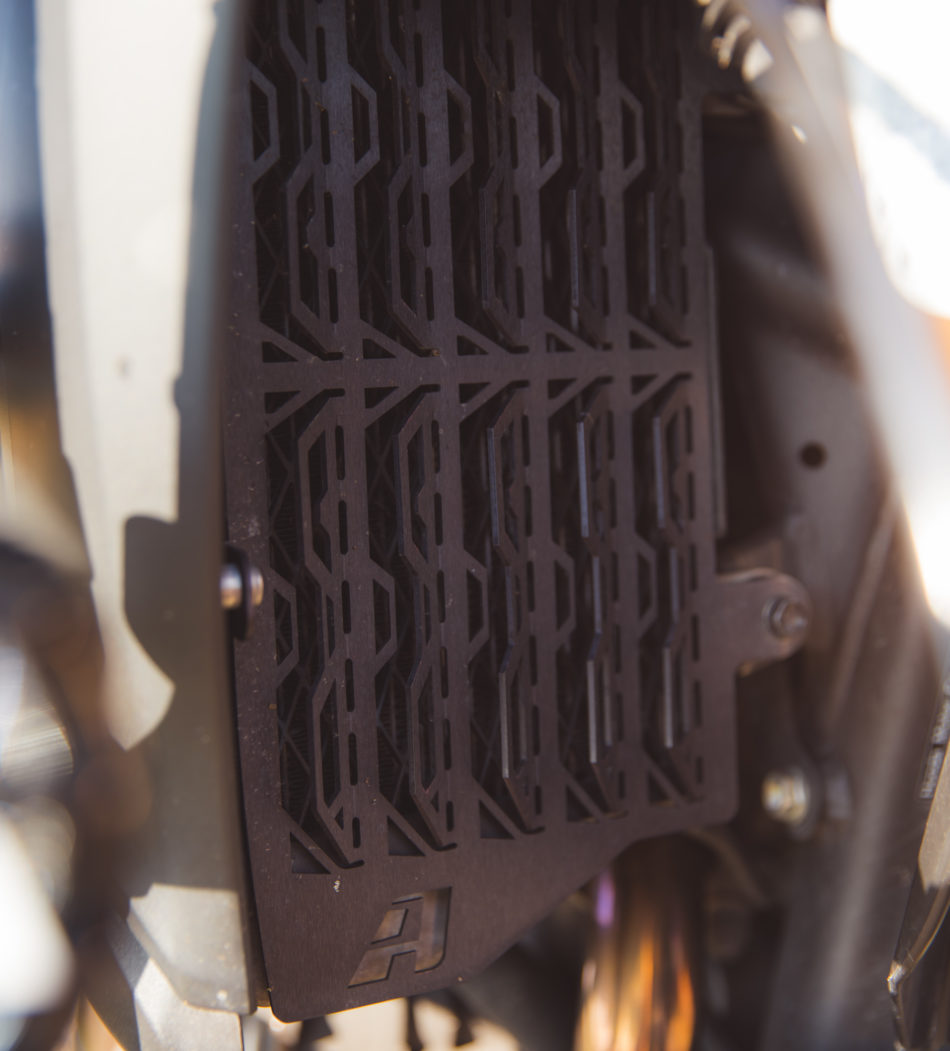 The Hi Fender Kit made by Alt Rider is often discussed controversially (mostly because of the look). I really love the offroad look (in contrast to the standard fender), also the increased space between the wheel and the fender might be useful in really muddy situations (although I doubt that I might get in such situations…but you'll never know).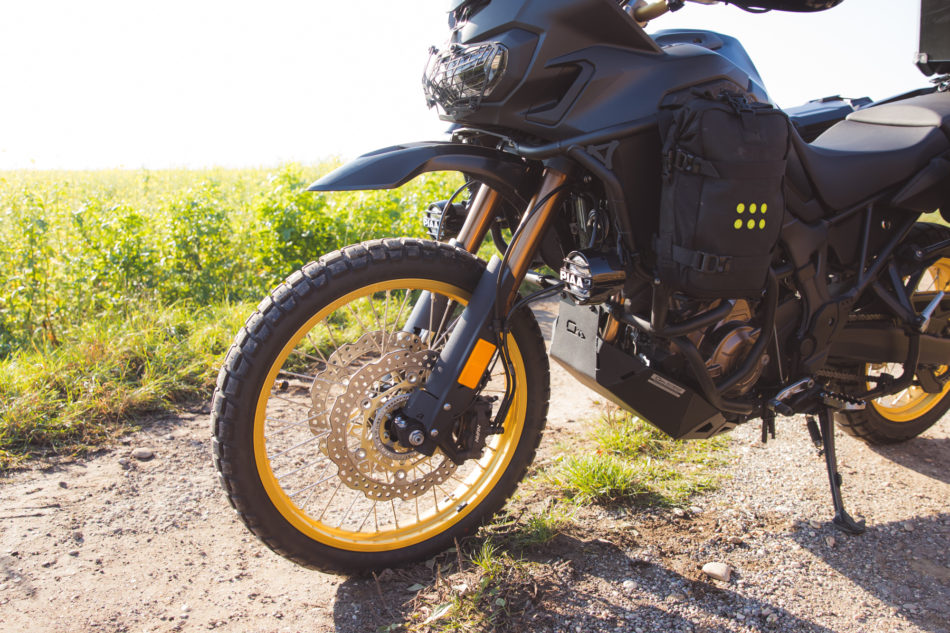 As all motorcycles in the EU have to have orange side reflectors and (at least in Austria) you are not allowed to remove them, I mounted small ones (have to be ECE approved, like these ones) on the fork guards, as the original ones could not be re-used here.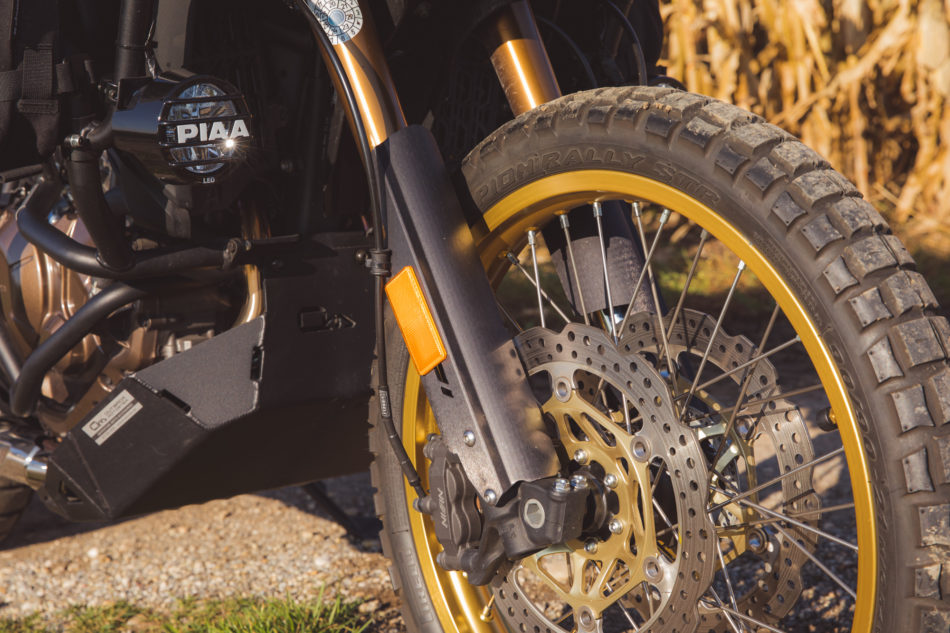 The original toolkit falls under the category "aaww, so sweet". For longer tours one should bring better and more tools. To safely carry them the SW-Motech toolbox is a perfect choice. It can be mounted on the inside of the pannier rack and does not disturb in any way. You might want to use bigger washers (than the ones provided) and not tighten the screws to much, as the plastic mounting parts might get damaged (especially if you carry a lot of tools in the box).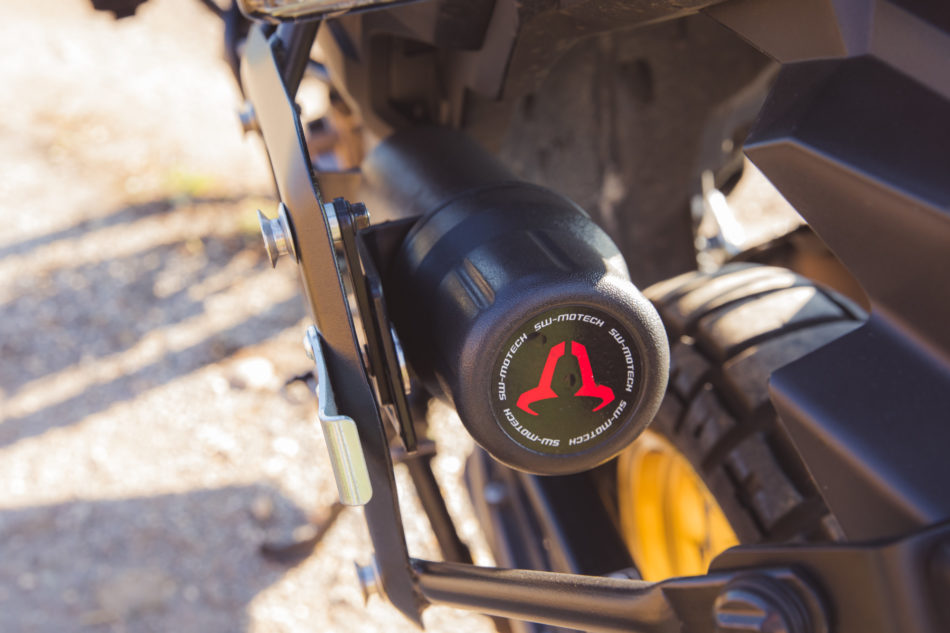 What is still missing? The tyres! The original Dunlop tyres were quite OK for my first tour to Corsica, but for future tours that also feature offroad parts there is a need for a tyre that is more capable for such parts. Many love the Conti TKC80, but I chose the Pirelli Scorpion Rally STR and after riding it for around 5,000 kilometers I must say: perfect grip, I love it!
A really useful small tool is this throttle grip add-on made by Louis. As the 2019 version of the Africa Twin does not offer a cruise control (only available for the 2020 model), longer highway rides can become quite demanding for your wrist. With this little add-on you can simply more or less lay your hand on the throttle and keep a steady speed.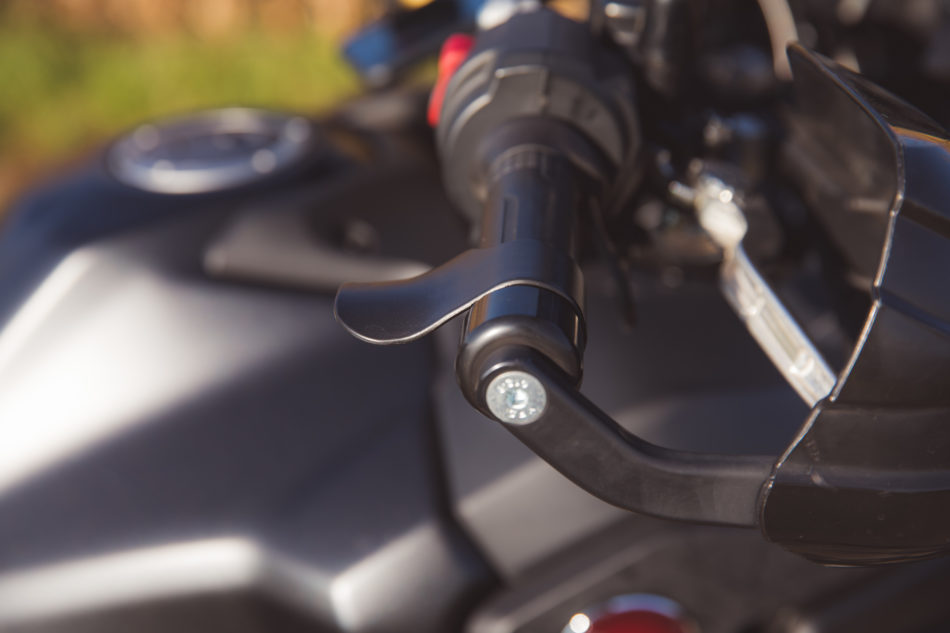 My latest modification: foot pegs made by SAM Racing.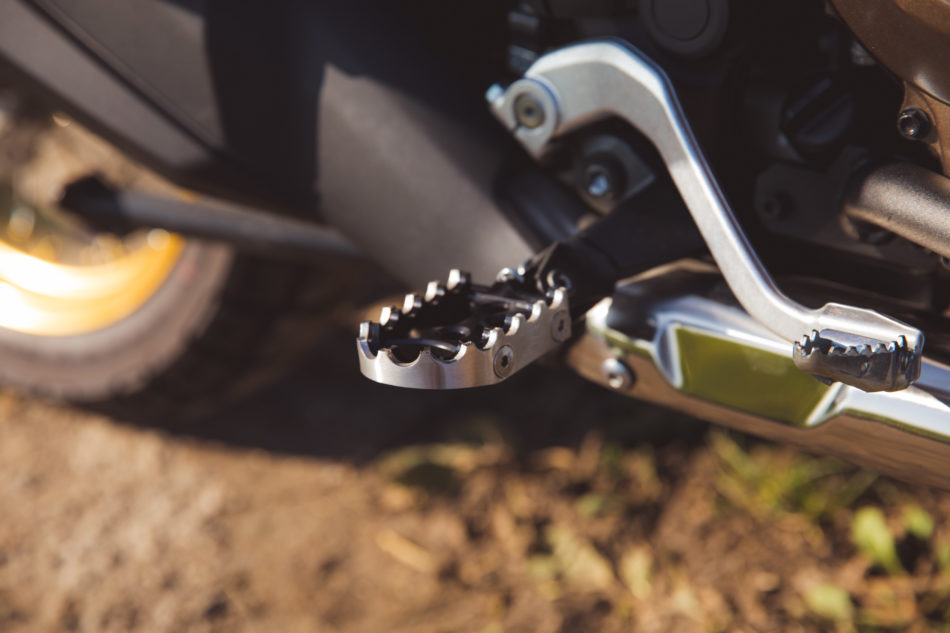 The original ones are really small and don't offer the best grip – especially if you have a bigger shoe size (EU 45!). These ones are much better.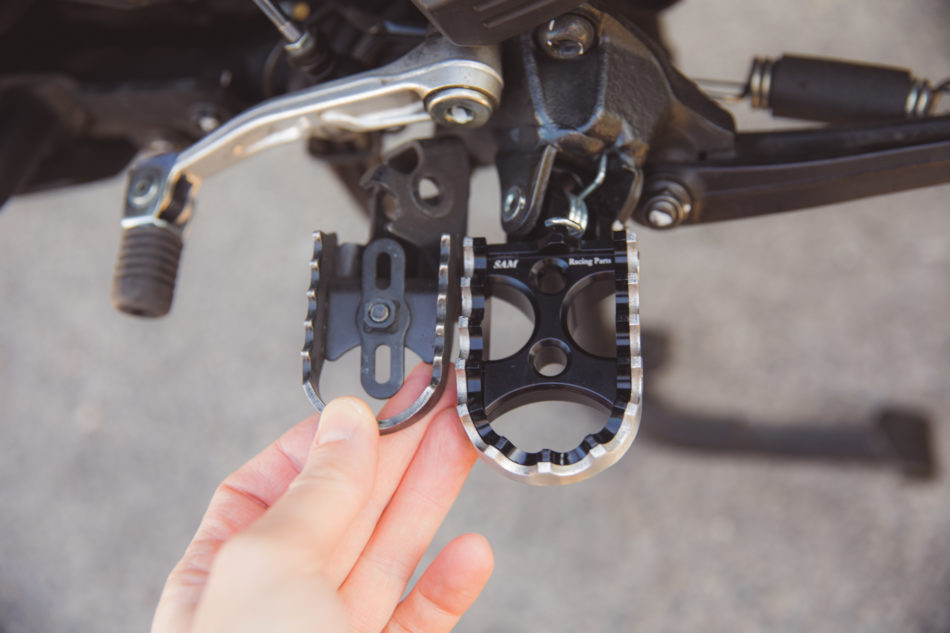 So, that was it for now. Malicious gossip has it that there wouldn't be much more one could modify on this bike. Well, maybe the suspension could use a little upgrade (there are some lovely parts in the Öhlins store). But other than that? Hmmm…