I love food. And I love good restaurants – especially, when I'm on holiday.
We were in Crete (Greece) recently and visited a lot of restaurants – some excellent, some OK and some…let's say "in need of improvement". A lot of restaurants have pictures of their dishes displayed in front of the restaurant. Don't go there. I made the experience that only the poorer restaurants have those pictures on display. The good ones don't (or have just the menu on a stand…without pictures!).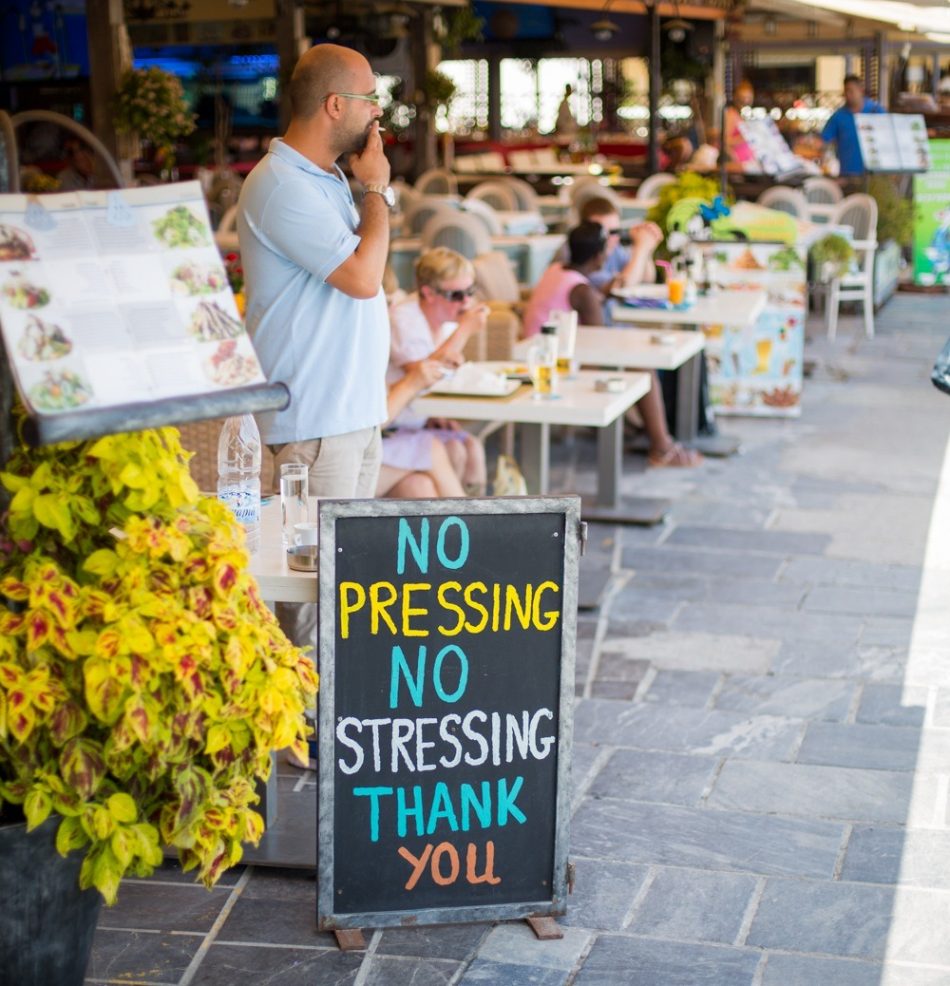 The sign above is perfect for the Greek lifestyle…and also the service in most restaurants. You gotta have time. Especially after you have finished eating. Clearing the table right after the last one has finished their dish (like in Austria)? No way. Waiters go by regularly, even look at you and your correctly arranged cutlery (or is there a different way of saying "I am finished" in Greece?), but do nothing. This happened to us in nearly every tavern and restaurant.
When it comes to paying the bill, the waiters will bring you the bill and then leave again to come back later to collect the money and then bring you the change (hardly a waiter has money with him like in Austria). The funny thing is that most of them won't remember the total sum when they come back to collect your money. It happened to us quite often that they asked "What was the total sum again?" or "Can I see the bill again?". So don't put the bill in your pocked too fast. Regarding the tip (5-10% is appropriate): Don't give it to the waiter, just leave it on the table.
If you are a smartphone junkie like I am, you need WiFi. Fortunately, more and more restaurants have free WiFi (some even have signs in front of the entrance…but that shouldn't be the only reason to go there. As mentioned before, beware of those bad pictures of dishes!). Mostly the WiFis require a password. The waiter will tell you the password or give you a small piece of paper with the password written on it. If you are too shy to ask, you can try one of the following passwords (these combinations were used regularly in restaurants that we visited):
restaurant name
restaurant name + year (or the year before)
restaurant name + "internet"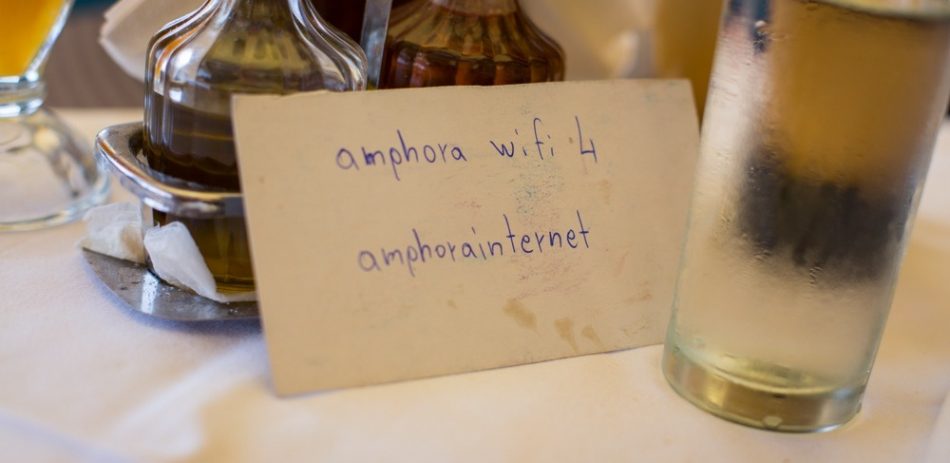 If you want to get to know the not-so-touristic side of Crete, get a car and drive to the South of the island. Most of the tourism is happening at the North side, the South is more "untouched". Of course you can also find great restaurants/ taverns there. One is located in Sellia (Σελλιά) and offers not only a great view (see below), but also traditional Greek dishes. It's called Eniá and has only a small menu card, but additionally a daily varying menu board (where you find the best dishes!). As we were sitting there, the local fishmonger brought some fresh fish and some minutes later, the landlord went up to the menu board and added some fish dishes.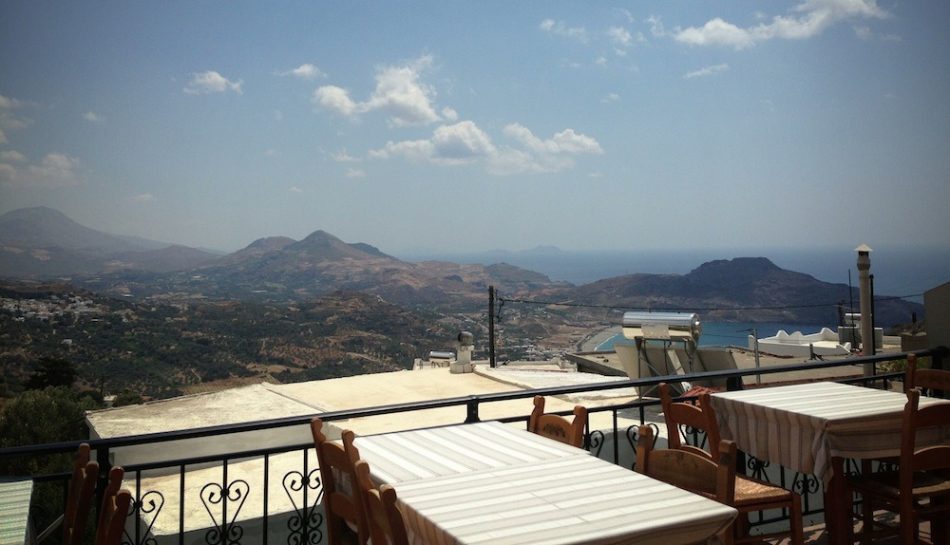 This is what the tavern looks like from the street. Not very fancy and might be overlooked – but the food and the view are both purely awesome! No WiFi, but the view is more interesting than any social media service anyway.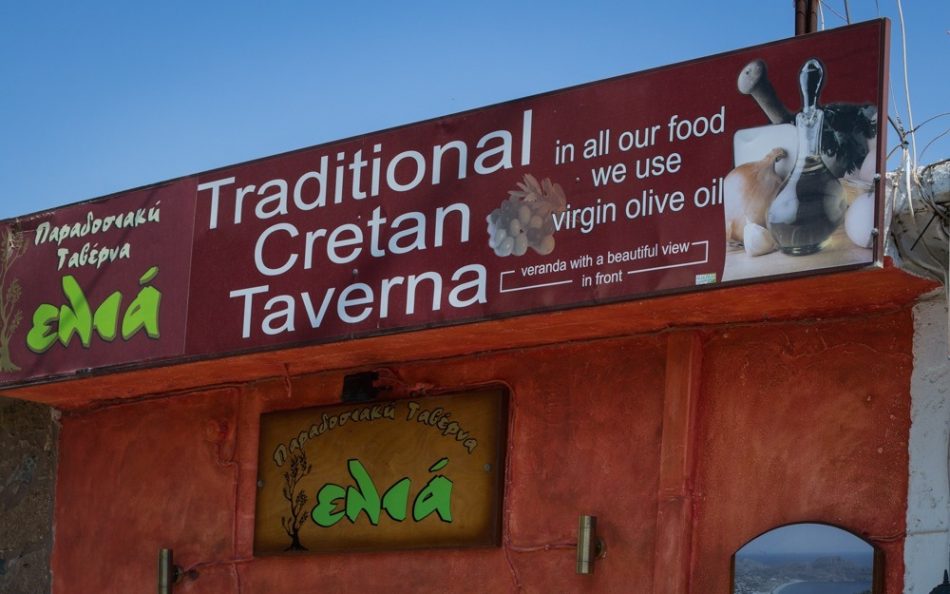 The best restaurants we visited were located in Rethymno (Ρέθυμνο) on the North side of Crete:
Alana (TripAdvisor-Link)
Lovely restaurant in the old town of Rethymno near the harbour. Excellent food (best Tzatziki I ever had!) and great service. The whole restaurant is outside under a giant tree. In fact, they have so many waiters that it seems a bit "crowded" sometimes. Not cheap (for a restaurant in Crete), but compared to Vienna more than OK. Better reserve a table, if you want to go there on a weekend. It won the TripAdvisor "Certificate of Excellence" several times (including 2013).
Castelvecchio (TripAdvisor-Link)
Located also in the old town of Rethymno (in fact, just around the corner of Alana). Not that much tables (which makes it much more pleasant to me), but a perfect location for a romantic candlelight dinner (they don't have much more lighting than candles anyway). Also: great food and great service. If you don't know what to eat, talk to the waiter. He's a lovely and funny guy and will find the perfect dish for you. The price level is the same as for Alana. Also a TripAdvisor "Certificate of Excellence" winner in 2013.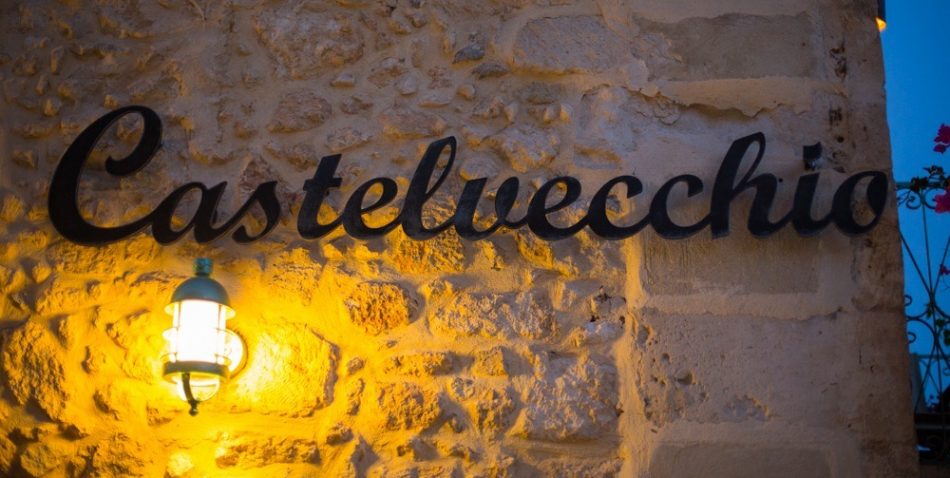 The old harbour of Chania is also a very nice place to visit – and to have lunch or coffee! The harbour is full of restaurants – most of them show their pictures of their dishes. In between there was one single restaurant that didn't have any pictures…"Amphora"….that's were we had lunch. It was excellent! We later discovered that it also won some TripAdvisor excellence awards. That's the view from the tables in the front:
Our hotel was in Platanias (right next to Rythymno). As we learned, it is the nightlife & disco area. Not really our taste (we were relocated from another hotel unfortunately). It is also "optimized" for guests from Russia – a lot of stores have Russian names, there are a lot of stores for furs (yes, in Crete!) and jewelry and the restaurants have their menu cards in Russian (but mostly also in English and German). So if you are from Russia, this might be your thing. Everyone else: maybe not.
As Crete is the biggest producer of olives in Greece (according to the guidebook), go eat some olives and buy olive oil (mostly better than the oh-so-famous Italian olive oil!). There is not much, that is not made out of olives. As I learned, those skin care products made with olive oil are also great. There are a lot of small stands in villages or on the roadside (especially on the mountainous regions in the South), which sell olive oil and honey. We found it much more pleasant to buy stuff there than in big stores in the main cities or at the airport (where it is also much more expensive). And maybe have a chat with the locals – most of them speak English quite good (even in the not-so-touristic South). And even if not – using gestures and hand signs to communicate is always fun, isn't it?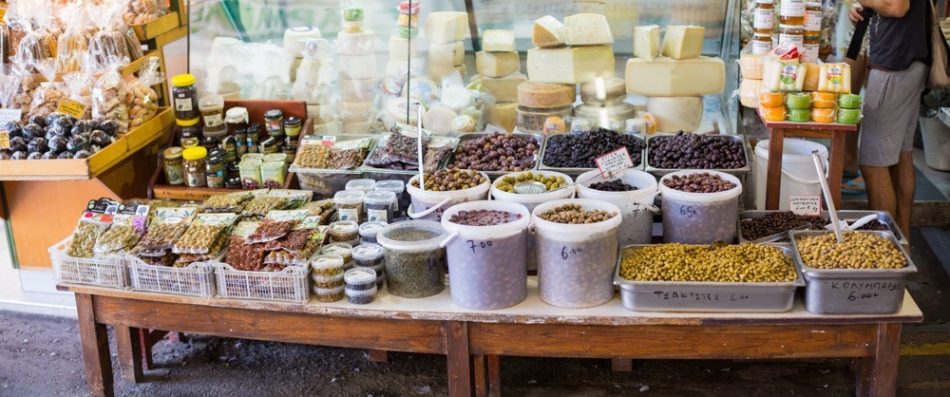 If you want to have more impressions from Crete, have a look at this blog post (or this one for some panoramas) on my photoblog or view my Crete album on flickr.
(Originally posted on my tumblr)